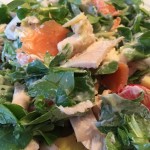 Chicken, salmon, cheese and avocado salad
Ingredients
Instructions
Grill a chicken breast ( or use pre-cooked chicken ) and cut into slices. Put in a bowl.
Cut smoked salmon into strips and add to the bowl.
Cut half an avocado into strips and add.
Cut cherry tomatoes in half and add to the bowl.
Add your rocket.
Slice / grate the cheddar cheese into the salad.
Add 2 table spoons of full fat mayonnaise into the bowl and mix.
Allergens