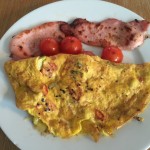 Mexican Omelette
A nutritious hybrid of English bacon and a Mexican style omelette, complimented with lightly fried cherry tomatoes. Give your breakfast a kick with this low carb treat!
Ingredients
Instructions
Bacon
Put your bacon in a frying pan at medium heat. Do not use oil, the fat from the bacon will cook itself!
Cook to taste (I prefer slightly crispy), turning the bacon frequently.
Cherry Tomatoes
Cut 3 cherry tomatoes in half and fry in the same juices as the bacon.
Cook only for no more than a minute or two.
Omelette
Cut up your chili pepper (you can use half if you do not want it too spicy) and avocado into thin slices.
Grate 30g of cheese.
Break 2 eggs into a bowl and whisk until blended.
Add a pinch of salt and pepper.
Add the sliced peppers into the mix and mix it in to the bowl.
Place the butter in a frying pan at a very low heat.
Add the egg mixture into the pan and allow the egg to spread into the base ( you may need to adjust the pan slightly )
Cook for around 2-3 minutes and add the sliced avocado.
Cook until nearly done and add the grated cheese.
Flip the omelette over with a spatula in a semi-circle so the cheese begins to melt in the middle.
Cook for another 30 seconds or so and serve!
Allergens
Allergens